We had so much fun when we were in Swan River. When we first got there, we were greeted by the whole Kitch crew - Nana and Papa, Brody, Hannah, Auntie Rhonda and Uncle Ian and Carson, Grace, Auntie Rhonda and Uncle Travis! It was great to see everyone again. :)
We headed up to the lake as soon as we could so we could enjoy the great outdoors while the weather was nice and while Rhonda and Ian were on holidays. We all bunked in the cabin - thanks to Brody and Hannah for giving up their room for us - and spent the days outside. We went to the lake, played at the beach, went for boat rides and tube rides and had campfires.
On Canada Day, Nana and Papa had a big family BBQ at their place. They invited everyone over for a visit and supper. We got to see lots of people - Auntie Ev and Uncle Ejner, Erin, Rob and Myley, Ryan and Kristen, Aunt Marlene and Ed, Aunt Louanne and Dwight, Orest and Carolyn and Bruce and Barb. (I really hope I didn't miss anyone out!) It was a full house but it was great to visit with everyone. Aunt Lila couldn't make it then but she did come out later and we got to visit with her a few times so that was good too.

Kirsi was sooooo excited to see everyone again! She had been talking about going back to Canada for weeks before we left and she had a grin plastered on her face the first few days we were back. Aidan did really well with all the new people; as long as Mommy or Daddy was close by, he was fine. He took a while to warm up enough to let people hold him but he soon got used to the familiar faces.After the lake, we hung out at Nana and Papa's for the rest of our time there. Brody and Hannah came by often for a visit and Kirsi was very excited for that. It was a sad good-bye when we had to leave and Kirsi was old enough this time to realize what was going on, though she didn't understand all the tears (next summer is still too far away to really know how long it was going to be).

Kirsi driving the boat:
Kirsi watching Hannah on the tube: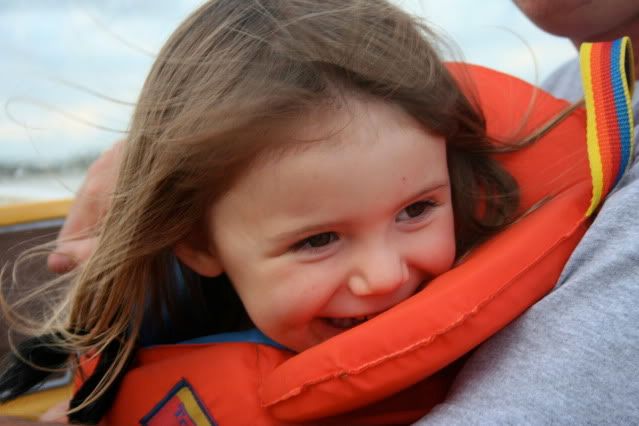 Kirsi buried in the sand:
Aidan taste-testing the sand:
Aidan playing in the water:
Kirsi trying to catch minnows: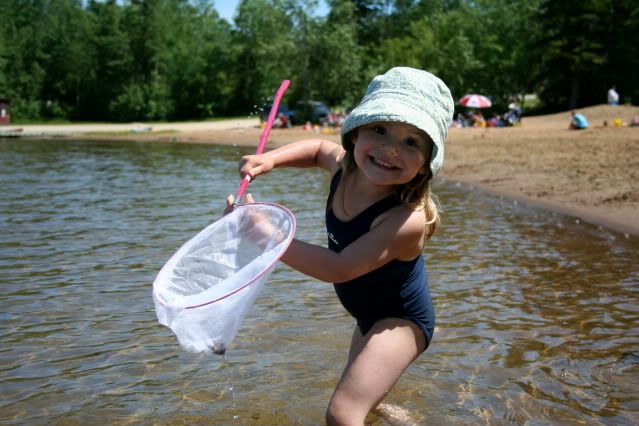 Aidan's first taste of corn-on-the-cob:
Aidan's first ice cream cone:
The aftermath: