On Friday morning, we decided to go to the Valle del Encanto, where there is a significant collection of petroglyphs (carvings in rocks) from the El Molle culture, which lived in the area between 100 and 600 A.D. What is so interesting about these petroglyphs is that the people look very alienlike, with faces with large, wide eyes and wearing headdresses.
We got there mid-morning and it was packed! Everyone was still celebrating their national day so the picnic area was overflowing with people who were barbecuing and enjoying a day out. Since it was so crowded and it was hot already so we decided to look at the petroglyphs quickly and not spend the recommended two hours there. We climbed up and over lots of rocks and found some of the petroglyphs in great condition and others that were very difficult to see. We didn't go to one section of them because there were so many people and we would have had to park the car quite far away. We were pleased with what we saw, though. It's amazing how long these petroglyphs have lasted, especially in such a climate (with lots of wind and sand erosion).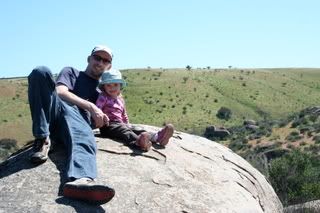 In the afternoon, we went for a drive east of Ovalle, along the Rio Hurtado, which also offered beautiful scenery.