On Wednesday, the markets were crazy with everyone buying meat for their barbecues (
asados
) for the Dieciocho celebration. Everyone gets out the charcoal and fires up the grill and cooks copious amounts of meat. We went in to Ovalle, the main town in the area, on Wednesday to pick up some food so we could make our own sandwiches for supper. At the hacienda, supper service only started at 8:00 pm and the kids were sleeping by then so it was just easier to have sandwich supplies and store them in the mini bar. :)
Thursday was September 18th, Chile's national day. We figured it would be a bit crazy in the towns around where we were staying so we decided it would be the perfect day to go the Fray Jorge National Park. It was about a 45 minute drive to the park and the scenery was lovely. Lots of rolling hills covered in springtime flowers and plenty of cacti too. We passed through a few small dusty villages before getting to the park. We noticed that kite-flying is a huge activity at this time of year. Everyone was flying kites, young and old alike. Once in the park, we had about 10 km to drive before getting to the forest that is a protected UNESCO world biosphere reserve. At first it was quite a leisurely drive through more rolling hills. But then we really got down to business and had to climb up, up, up before getting to the forest. Check out this sign: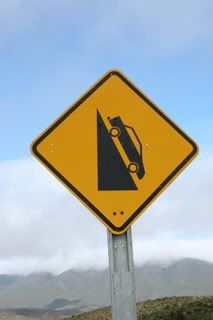 That was not very encouraging! We got up to the top to see the small cloudforest, which resembles Valdivian forest found in the south of Chile. It's such a sharp contrast to the semi-arid landscape filled with cacti and small shrubs. On top of the hill, you enter the low clouds and mist and you feel like you're in Scotland and not Chile! This fog is called the
camancha
and it is very dense, which is what allows this type of vegetation to thrive.
Some scenes from along the way and up at the forest: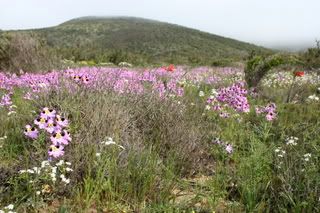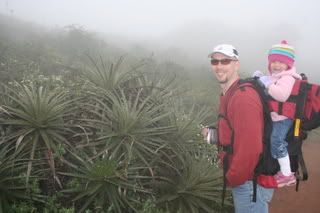 In the afternoon, we enjoyed a leisurely lunch at the hacienda and then went for a walk up in the hills behind the hotel. We also spent some time on the trampoline and at the playground.