Today was a big day - birthday party day! We had originally planned on having it last weekend but Kirsi was too sick to do it so we moved it to today. It was a great afternoon. The weather was perfect - the kids played outside the whole time. There were 9 other kids there, plus a couple big brothers. At first it was pretty overwhelming for Kirsi to see so many people at her house and so many kids running around the back yard playing. But after a while, she joined in with them and had a good time. The kids were all really well behaved and the afternoon went off with very few kiddo skirmishes - quite an accomplishment for being here for three hours!
Der and I spent all day yesterday and today getting ready for the big event. The cake decorating took a lot longer than I had hoped. I thought I had found the perfect icing recipe but alas, it got too soft while decorating so I had to put it in the fridge to cool down and start up again many, many times. That's what happened when I used the normal butter icing recipe but it did it too with the buttercream recipe. But in the end, the cake turned out great and I'm really happy with it. We got the meal ready today and Der took over in the kitchen once the guests started arriving. All the food was a hit so that was good. What's not to love? Spinach and Strawberry Salad, Italian Chicken Pasta Casserole, Turkey Chorizos and Garlic Bread. :)
When it came to cake time, Kirsi wasn't too sure about everyone singing "Happy Birthday" to her. She just looked around with a funny look on her face. But she was super happy to be able to finally dig into her cake. Then it was time to open presents. She loved it but had to do it too fast. She likes opening one gift, looking at it and playing with it before moving on to the next one. Unfortunately, by the time gifts were being opened, it was getting late so people had to leave so she was being hurried through the gifts. It was too overwhelming for her but we'll play with everything tomorrow. She got some neat gifts (though we had asked people not to bring anything!): Play Doh, Play Doh tools and books; a spider puppet; pencil crayons; Mr. Potato Head; a puzzle; two purse books; a little embroidered blouse from Ecuador; and money to put towards sponsoring someone on Kiva. All in all it was a great day and our little sweetie had a fun time!
Her ladybug cake: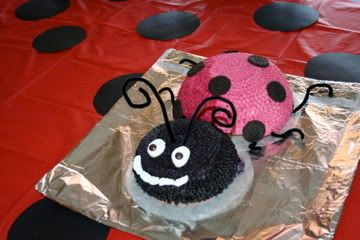 Blowing out her candle:

Finally getting to eat her "bee bug" cake. She had to wait since yesterday!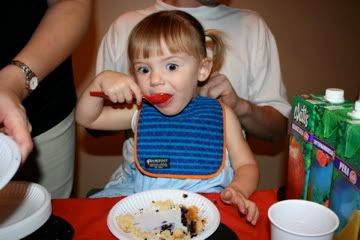 Opening presents: